Label

: Kniteforce

Title

:

Alive By Default EP

Reference

:

Kniteforce Lazarus V02

Format

:

12''

Country

:

UK

Categories

: Ragga jungle, Electro / breaks, Pre-orders,

Style

:

Hardcore UK, Jungle

Weight

:

0.24

Release date

:

07/31/2022

Catalog entry

:

07/31/2022

Average rating

: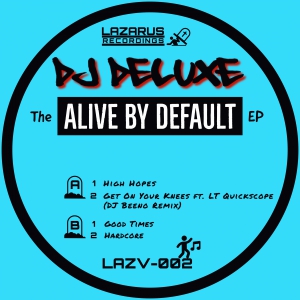 16.44 € (TTC)
In stock soon
Kniteforce Lazarus V02 review
Lazarus Recordings makes its long awaited return with the head honchos new EP, DJ Deluxe – Alive By Default. This EP is full of his fast paced breakbeat goodness that has become synonymous with DJ Deluxe's production style. He takes that '93/'94 breakbeat hardcore sound, adds some 1998/1999 breakbeat style and then amps it up with modern production techniques. You will find all that made the early breakbeat hardcore sound so good but all the dials have been turned up to 12! The only thing that can top Deluxe's insanity is that of DJ Beeno, and here he really lets lose and unleashes his love of fast paced techno for his remix of Get On Your Knees. This EP isn't just one thing, it's not old skool, it's not new skool, but it is both and so much more.
Customers playlists
This records is not playlisted so far...
Customers who bought this item also bought
Customers reviews
Express yourself, write a review