i
Label

: Legs Akimbo Records

Follow this label

Titre

:

Stunning / Faster

Référence

:

Legs Recs 12

Format

:

7"

Pays

:

UK

Style

:

Speedcore, hardcore, breakcore

Poids

:

0.18

Date de sortie

:

07/12/2013

Ajouté le

:

07/12/2013

Note moyenne

: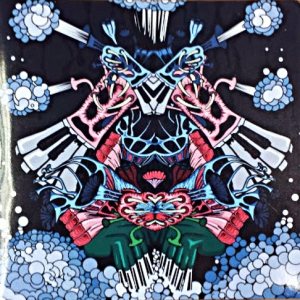 Legs Recs 12 Commentaire
Faster is a pure hardcore speedcore tune , bugging on breakcore metal, but not too mutch (or not enouff ?), the best tune here.... Stunning is the name of the other tune... with this one we get one of the most slow tune of the label. A 185/190 BPM trashmetal breakcore jewel. Something that Igorrrrr could consider like a master piece... if only... the kick was not coming ! Ahahah... that would have been « to forget about the roots of the label ». just 8 mesure of kick please. At least !! A good record; a record to discover that label a bit late... but not TOO late ! BIG UP !
Les titres
19258-0

Ladyscraper feat. Rapidax - Stunning

19258-1

Ladyscraper feat. Rapidax - Faster
Les clients ayant acheté cet article ont également acheté
Commentaires client
Exprimez vous, rédiger un commentaire