Label

: Kiosk

Titre

:

Ringu Video / 8 Qbit Bqube

Référence

:

Kiosk 06

Format

:

10'' Color

Pays

:

FR

Catégories

: Electro / breaks, 1 euros vinyls,

Style

:

Electro techno

Poids

:

0.20

Date de sortie

:

02/12/2006

Ajouté le

:

25/02/2022

Note moyenne

: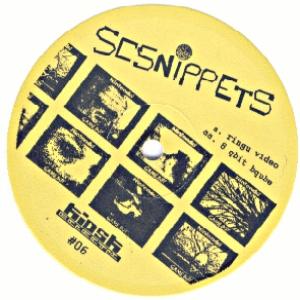 Kiosk 06 Commentaire
Kiosk Eclectic's arrival on the Chiptune-Game Boy music planet. Far from the usual kitschy/retrofu-turistic/80's disco style, Kiosk Eclectic is focusing on an innovative and sophisticated 8-bit sound. Shall we call it? I8B (Intelligent 8 Bit) ?? So far, two artists are representing Kiosk's 8-bit division : TB (Turkey), new album Dreams in teletext, on the german label Retinascan. motif_r/SCS-NIPPETS, 10 inches white vinyl, 2 tracks, on Kiosk Eclectic records. SCSNIPPET-S (motif_r on GameBoy), released november 2006. Collector ! (one of the very rare Game Boy projects on vinyl !) A side is a Ringu Video 8-bit under pressure, kinetic and syncopated. This is a 90's rave flashback. Clattering metallic rhythms and acid lines, kicking with this distinctive Game Boy sound. B side is a 8 Bit Bqube Minimal techno flavour, in the Basic Channel trail. 8 bass, 8 bit, bleepy clicky funky track. Dancefloor Game Boy ! GIGANTIC Techno electro style ! Melting the music to the dancefloor, which is very rare, and very demoniac. Probably the BEST KIOSK !! KILLLER !!!
Les clients ayant acheté cet article ont également acheté
Commentaires client
Exprimez vous, rédiger un commentaire