Label

: Algorythm

Title

:

Fear Division Destruction

Reference

:

Algorythm CD 03

Format

:

CD

Country

:

NL

Categories

: Drum & bass, Hardcore,

Style

:

Crossbreed, Hardstep, Hard Drum

Weight

:

0.20

Release date

:

07/09/2016

Catalog entry

:

07/09/2016

Average rating

: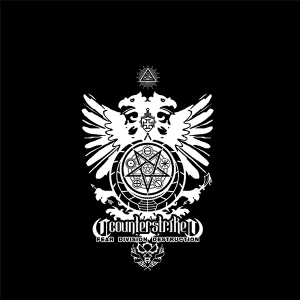 13.04 € (TTC)
Out of stock
Algorythm CD 03 review
COUNTERSTRIKE stand as one of the hardest production entities to pin down in the heavy-hitting end of drum and bass, delivering exceptionally well-executed cuts across the multiple sub-genres of the scene to carve out their unique sound. Following up a string of releases across leading labels in the scene, which sparked as early as 2001 and sees them today as one of the leading forces with their heavy sound - they unveil their 2nd LP through their own Algorythm Recordings - FEAR DIVISION DESTRUCTION.

Opening with the ominous tolling of church bell, before dropping with a sample that places tongue firmly in cheek - DEMONS pairs Counterstrike with US producer Gein to deliver a stripped wonky shuffle between dnb sub-genres for the most depraved of dancefloors. The LP also delivers hefty collaborations with the Panacea and Eye-D, with TOCKOTRONIC bringing heavy sweeping tech and a trance-flavoured breakdown, while HOW IT ENDS strikes with filthy acid-influenced crossbreed. Titular track FEAR DIVISION DESTRUCTION places it's roots firmly in the Portuguese sound, delivering devastating waves of pulsating techno-influenced dnb. AGAINST THE GRAIN leads from towering bass into a proud display of Counterstrike's broad range of influences - with hard and heavy dnb melding perfectly with neuro. SHOCKWAVE delivers an angrily syncopated growl perfect for inciting unhinged, abandoned delirium across the rave, whilst THE RAGE shows the true power that a Counterstrike snare can deliver. THE SIGNAL drops with furious break beats, juxtaposed by a funky triplet rhythm on the switch. VOLCANIC sees them combining forces with one of the scene's top MC's - Coppa, to deliver a nasty slab of future hip hop.

FEAR DIVISION DESTRUCTION delivers what it promises, an aggressive but highly-tuned odyssey into the core of hard dnb that will rip your soul out through your eardrums and leave listened palpitating in the dance.
Customers who bought this item also bought
Customers reviews
Express yourself, write a review