Love Love LP 04 by dgoHn
Label

: Love Love

Title

:

Undesignated Proximate

Reference

:

Love Love LP 04

Format

:

3x12''

Country

:

UK

Categories

: Drum & bass, Ragga jungle,

Style

:

Drum N Bass

Weight

:

0.72

Release date

:

08/01/2022

Catalog entry

:

08/01/2022

Average rating

: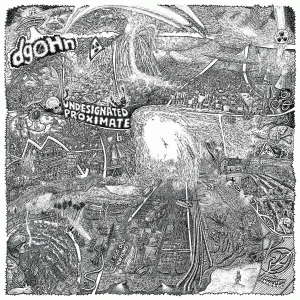 40.68 € (TTC)
Back in stock soon
Love Love LP 04 review
New music from dgoHn (John Cunnane) is always exciting, this LP especially so. After a recent release on Astrophonica, a self released collection of tracks in 2018 and 3 singles on Love Love since the inception of their partnership in 2016, John comes back to Love Love with the big album. Conceived in the Essex heartland, 'Undesignated Proximate' contains 12 all-killer mega fresh cuts of the kind of boundlessly creative material that we have come to know him for, marking the most comprehensive collection yet of dgoHn's music.

With a meddlesome level of experimentation and a knack for pumping out truly futuristic rhythms, John's ideas are utterly compelling, effortlessly peddling some of the most refreshing sounds to be found in the drum and bass / drumfunk / jungle worlds over a quarter of a century since the birth of the style. Not constrained by genre however his resolute chops, rich sound worlds and melodic structures form very real pieces of music, full of character and feeling. The production here is tighter than ever and while the tracks are technically adept, they drip in pure personality and raw energy. These are tracks made with a brain and a heart.

Likenesses to great Jazz drummers are just as appropriate to his music as they are his contemporaries in braindance or drum and bass and his noisier influences often bleed through. 'Stachybotrys' sees dgoHn's drums at their most frantic and tracks like this, as well as 'Invisible Sandwich' and 'Ninnyhammer' are rinsers of the highest calibre. The depth of these compositions are a complete antidote to mundanity and while the mainstay of the productions on the album are fully sound system-ready, cuts like 'Electryon', 'Puppet' and 'Windy' are so smooth they could almost be considered ambient.

10 years on from the classic album "Some Shit Saaink" made with friend Bob (Macc) on Subtle Audio/Rephlex, John"s music has garnered many notable fans including Aphex Twin, Skee Mask, DJ Food, Thom Yorke, Ben UFO, Lee Gamble and Tom Ravenscroft finding a firm place in the hearts of many. 'Undesignated Proximate' is a timeless collection of music that sets a high bar for what can be achieved with a computer and some nifty ideas.
Customers playlists
May 04 created by toolbox records
Customers who bought this item also bought
Customers reviews
Express yourself, write a review