Label

: Kniteforce

Title

:

Vinyl Is Better 01-10

Reference

:

Kniteforce FZ 04 USB

Format

:

USB

Country

:

UK

Categories

: Ragga jungle, Electro / breaks,

Style

:

Jungle, Hardcore UK

Weight

:

0.10

Release date

:

11/17/2021

Catalog entry

:

11/17/2021

Average rating

: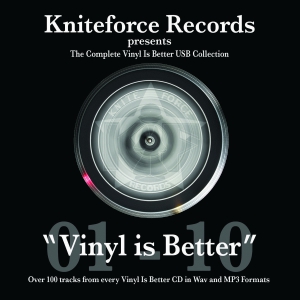 Kniteforce FZ 04 USB review
The Vinyl Is Better CD series has been a landmark set of albums, spanning Kniteforce's existence, with volume one coming out in 1994, and the final volume, volume 10, landing now and exclusive to this USB collection. This 8 gig USB is packed within a CD case, shrinkwrapped and packaged to perfection. It contains over 100 tracks in wav format with music from NRG, Pete Cannon, Vibes & Wishdokta, Luna-C, Dj Force & The Evolution, Sublove, Alk-e-d, Cru-l-t, Ramos, Sike, Abyss, Alex Jungle, TNO Project, Wislov, Future Primitive, The Timespan, Gothika Shade, Lockjaw, Dj Ham, Jimmy J & Cru-l-t and so many more…
Customers playlists
This records is not playlisted so far...
Customers who bought this item also bought
Customers reviews
Express yourself, write a review