Tripalium Ltd 09 by Zarkoff
Label

: Tripalium

Title

:

Completed With Errors

Reference

:

Tripalium Ltd 09

Format

:

12''

Country

:

FR

Categories

: Electro / breaks,

Style

:

Electro, IDM, Breakz

Weight

:

0.24

Release date

:

05/27/2022

Catalog entry

:

05/27/2022

Average rating

: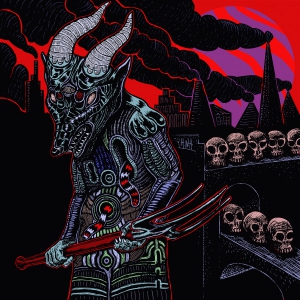 Tripalium Ltd 09 review
Sasha Rajkovich, aka Zarkoff, member of Sumerian Fleet, NauGrau, FFFC, Kali jugend and other collaborations, has been active in underground music since the mid 90s. EBM, acid and electro are most frequently visited genres in his musical output, with occasional drifts into post punk or techno. He also likes to express himself through lyrics, influenced by the likes of Leonard Cohen, Philip K. Dick or Vladimir Mayakovskij.
For this new EP, he delivers four cold and melancholic synth-electro tracks, inspired by Old Testament and Gnostic teachings about the nature of the Demiurge. All the vocoded and speech synthethised lyrics are direct quotes from King James translation of the Holy Bible. No comments have been provided by the author, only musical context, so listeners will be free to interpret it however they want.
Customers playlists
This records is not playlisted so far...
Customers who bought this item also bought
Customers reviews
Express yourself, write a review