Label

: Holding Hands

Title

:

Slam Jams Vol. 3

Reference

:

Holding Hands 21

Format

:

12''

Country

:

UK

Categories

: Electro / breaks, Bass dubstep grime,

Style

:

Breaks, Bass

Weight

:

0.24

Release date

:

09/08/2022

Catalog entry

:

09/08/2022

Average rating

: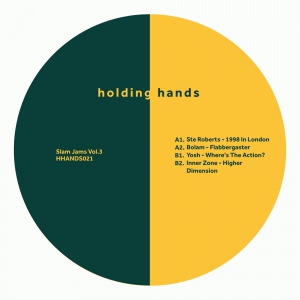 Holding Hands 21 review
We have rolled around to one of my favourite forms of Holding Hands releases. The various artists goodness that is Slam Jams, this being number 3.

I have drafted in bangers of the highest calibre from the likes of Ste Roberts, Bolam, Inner Zone and Yosh. They go high, they go low, they go fast and they go...slightly less fast. If you like slammers, and I'm guessing that you do, then this will be a veritable day out at the fair for your ears.

OK enough of my blather. Go and listen to the damn things yourself and decide if you like them, rather than trying to work it out from reading a bloody press release you weirdos.

All four tracks are produced and sculpted for the club. They want big sound systems and dark rooms. Close your eyes, hold hands and experience transcendental space flight...
Customers playlists
claudia created by giulio47
Customers who bought this item also bought
Customers reviews
Express yourself, write a review