Label

: Do It Yourself

Title

:

Do It Yourself

Reference

:

DIY 01

Format

:

12''

Country

:

fr

Categories

: Tribe / freetekno, Hip hop,

Style

:

Tribe, XP Electro, Rap

Weight

:

0.24

Release date

:

06/15/2022

Catalog entry

:

06/15/2022

Average rating

: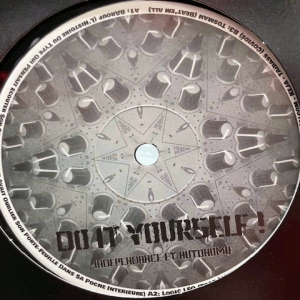 DIY 01 review
L'autonomie fait partie de l'A.D.N. de notre mouvement. La Free Party s'est notamment construite autour de ce principe. nous avons créé nos lieux de fête en refusant les réseaux conventionnels, nous avons inventé notre façon de communiquer, nous avons créé nos propres sons, nos propres disques et nos propres réseaux pour les diffuser.

Le « Do It Yourself » à toujours été notre leitmotiv à tou.te.s.

Aujourd'hui, trente ans après ces débuts, le mouvement à évoluer. Malgré les tentatives de récupérations, d'institutionnalisation et de marchandisation, la Free Party est toujours subversive et indépendante.

Mais la vigilance reste de mise.
Face à la répression ou à la marchandisation, les réseaux se structurent et se réinventent sans cesse. La résistance est plus active que jamais !

Pour la diffusion de nos disques, nous nous sommes aussi organisé.e.s. Lorsqu'un.e compositeur.rice créé son label et son réseau de distribution, c'est pour plus d'autonomie. Tout l'inverse d'un distributeur qui multiplie les labels pour plus de profit.

Ce disque est aussi là pour nous rappeler que nous sommes et resterons toujours indépendant.e.s et autonomes.

DO IT YOURSELF OR DIE !

Vinyle composé, produit et distribué par leurs soins. En vous le procurant, vous allez directement le chercher à la source.

YOU DO THE SOUND : YOU ARE THE SOURCE

Edition limitée à 120 copies
Customers playlists
This records is not playlisted so far...
Customers who bought this item also bought
Customers reviews
Express yourself, write a review