Label

: Sabor Discos

Title

:

Sans Frontières

Reference

:

Che Sudaka Book

Format

:

Book and Download

Country

:

SP

Categories

: Comics & books,

Style

:

Latin, Cumbia, Reggae, Rock

Weight

:

0.50

Release date

:

07/28/2022

Catalog entry

:

07/28/2022

Average rating

: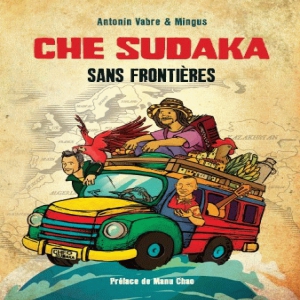 Che Sudaka Book review
Music is from the dowload bonus !
this is a book - no CD inside !

Che Sudaka est un groupe né de la diaspora latine en Espagne, des musiciens d'origine argentine et colombienne, immigrés à Barcelone.
Tous en situation irrégulière en
Europe à leurs débuts, le chemin
du combo n'a jamais été un long
fleuve tranquille. Pourtant Che
Sudaka, c'est 20 ans d'espoir, de
bonnes vibrations, de scène sur les
cinq continents dans plus de 40 pays !
Le livre Sans Frontière retrace cette aventure musicale singulière d'un combo en évolution perpétuelle
et reflet de notre société, ses
injustices et ses alternatives.
Internationalistes, ils rejettent les frontières par les mots et les actes sur fond de cumbia, de reggae et de rock. Avec beaucoup de travail, de créativité et encore plus de confiance en leurs capacités (musicales et humaines !), Che Sudaka a gagné le respect du public et de l'industrie musicale.
Tracks list
39208-01

1 - Manu Chao - Une Fierté du Quartier
Customers playlists
This records is not playlisted so far...
Customers who bought this item also bought
Customers reviews
Express yourself, write a review