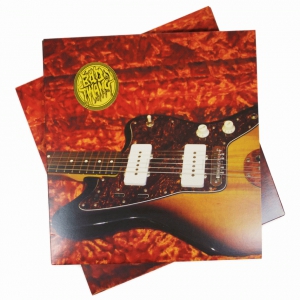 Bokeh Versions 37 review
More fire from the Bokeh HQ, this time inviting long time mutual friend and music head Répéter to present a new twist & turn in his dubbed out escapades, for the full-length, bass-guitarin', loose groove drift of 'Bad Twang' - one hella-addictive album for your home hi fi.


BKV never fail to move nice...
Bad Twang, produced by the producer (&badass DJ) previously known as Rer Repeter is warm and round in sound. It spins dizzyingly slow. When listening, we have repeated visions of sitting in a Saloon somewhere in the wild west during the hottest day of the year, several whiskeys in, one hand on the revolver, the other one flicking thru a disc of rocksteady shellacs and Tarantino dub, high on an assortment of cacti & herbs.

It's a nice place to be - we sure ain't complaining.
... There must be something about this one, because we've listened to it every day, again and again, and we ain't tired yet.

Check what the chairman of BKV says:

Haunted fall-out beaches of the Sierra Nevada, surf's all dried up and Bad Twang's the last place you want a drink. The door swings open to the deranged sound of a one man band who's fired their drummer for robotic trashcan percussion operated with punk pulley system attitude. Metallic spring tones bounce off the wall in a hellish bossa nova with the subtle resonance of a crime noir drama about to unfold. End title sequence.

The band on stage that night was actually Martin Werner aka Répéter fka Rer Repeter. Bokeh alumni finally holed up at his new destination, 4 years in the wild following up his In Fine Style cassette, learning to play surf guitar night after night, répéter répéter répéter to the soundtrack of great wide empty beaches and the burning desert sun.

Martin's actually from Austria and it's a long road that took him from promoting punk gigs in 00s, to reggae-selector, to dub technoish transmissions on LoDubs (as half of El Rakkas) and Dubsquare, and finally to these organic sounds that came from the demise of DJ culture and electronic music to its global property monoculture.

Taking the DIY back-street percussive troubadour sounds of In Fine Style - the percussion on the album is literally trash: empty cans of coke, the kick a lightbulb on the palm of a hand -
Bad Twang is an adventurous approach in bringing together the aesthetics of surf-rock soundtracks, post-world exotica and punk attitude with spring reverb'd dub. It's your post-nuclear surf film Shadows montage, John Wayne's hologram in a zombie Tarantino deepfake. Twaaannnnnnggggggg.

Shouts to Répéter and the ever-growing BKV-RWDFWD connection.

Pure, laid-back, gold dust in the form of sound & vibration.
This one's medicine, treat yourself.

Comes with DL code.
Customers playlists
This records is not playlisted so far...
Customers who bought this item also bought
Customers reviews
Express yourself, write a review