RIOT Radio Records 31
by
E.L.I.A.S
Label

: RIOT Radio Records

Title

:

Invasion

Reference

:

RIOT Radio Records 31

Format

:

12" EP

Country

:

UK

Categories

: Techno / hardtechno,

Style

:

Techno, Hard Techno, Industrial Techno, Broken Tec

Weight

:

0.24

Release date

:

05/27/2023

Catalog entry

:

05/27/2023

Average rating

: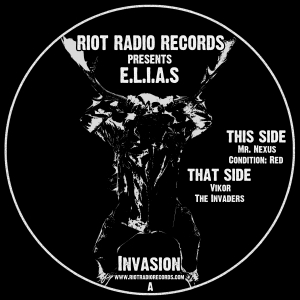 RIOT Radio Records 31 review
Sardinian born E.L.I.A.S is an artist who's always evolving and producing music that combines hard kicks with distorted synths and mean rumbling grooves in equal heavy measure. His enthusiastic mind grows with each step he takes musically, becoming more and more focused with every fist clenching beat he knocks out.

Continuing with the 'Limited As Fuck' series of releases, on our fiercely independent techno label based in Scotland, we're exploiting some other-worldly storming techno here for those club conquering moments in which you'd unconditionally establish full control over the dance floor with a warlike incursion into the bass bins.

Penetration directly into the minds of those who hear this invasive release will inevitably lead to a lack of all self-control as all members of the tribe will involuntarily bust some ferocious moves on their favourite pista da ballo.

WARNING: NOT PLAYING THIS RIOTOUS MUSIC WILL INSTIGATE AN ABOMINABLE SCANDAL
Customers who bought this item also bought
Customers playlists
This records is not playlisted so far...
Customers reviews
Express yourself, write a review