i
Label

: ZamZam

Follow this label

Title

:

Gradually

Reference

:

ZamZam 93

Format

:

7"

Country

:

US

Categories

: Dub / ragga,

Style

:

Dub, Electro Dub

Weight

:

0.15

Release date

:

11/18/2023

Catalog entry

:

11/18/2023

Average rating

: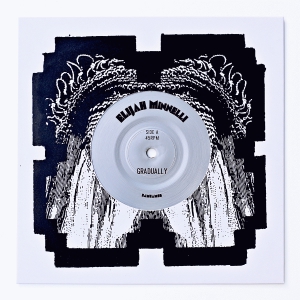 ZamZam 93 review
For the past few years we've been mesmerized by Elijah Minnelli's output on his own Breadminster County Council label… a handful of hand-crafted 7"s that live at the foggy intersection of dub, outsider folk, and various strands of Eastern European and South/Central American musics. It now seems inevitable that he would join the ZamZam family.

Firmly rooted in dub through its mammoth bassline, 'Gradually' is a shaggy, unhurried tune framed by melancholy, almost grieving squeezebox and gorgeous ensemble percussion that reverently recalls early cumbias. The tune is unique for Elijah in that it features fully-sung vocals. Themes of loss, despair, tragedy and coping circle and loop, ironically held in a musical matrix that spirals in deliberate repetion.

In 'Gradually Verzion' the introduction of a minimal melody and long echo trails signal a dramatic shift, going full dubwise steppers without compromising its warm center. Elijah holds back the wheezy melodics, deftly forwarding the percussion in time-honored echo chamber mode.
Customers who bought this item also bought
Customers playlists
This records is not playlisted so far...
Customers reviews
Express yourself, write a review