Label

: Tri-P Records

Titre

:

WTF Is It ?

Référence

:

Tri-P 04

Format

:

12'

Pays

:

FR

Style

:

Breakcore

Poids

:

0.24

Date de sortie

:

16/04/2016

Ajouté le

:

10/03/2018

Note moyenne

: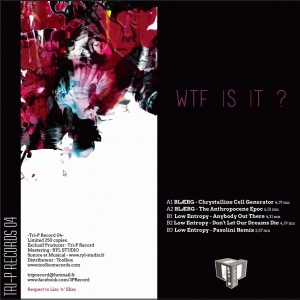 Tri-P 04 Commentaire
LTD 250 copies - Printed Sleeve

Tri-P goes Breakcore. Artikal sounds with one side Blearg and one side Low Enthropy. Blearg side first : 2 Drills jazzy tunes at the crossroad of Ambush and Venetian Snares... Influences are clear and the Speed Drum is never too far. The second tune is more original, offering a Funky 80's Breakcore side witch have been rarely done : Genesis power ! .... B side is Low Enthropy... Here we enter into the industrial side of the Breakcore. With 3 tunes this time. First track is quiet smooth actually, very melodious and close to Emotional Joystick style. Second track is completly what you can expect from Low Enthropy : industrial bombing beats and breaks raffales... Last tune goes more 8-bit and LFO Demon style. Superb little pearl : my favourite tune on this record. Always good to finish on a pearl :) BIG One, original and offering a real variety of styles... BIG !
Les clients ayant acheté cet article ont également acheté
Commentaires client
Exprimez vous, rédiger un commentaire