i
Label

: Foundation X

Follow this label

Title

:

Rasta Nuh Tell

Reference

:

Foundation X 04

Format

:

12"

Country

:

UK

Categories

: Ragga jungle,

Style

:

Drum N Bass / Jungle

Weight

:

0.25

Release date

:

08/20/2015

Catalog entry

:

08/20/2015

Average rating

:
This records is a second hand. Condition: Mint (Looks and Sounds as New)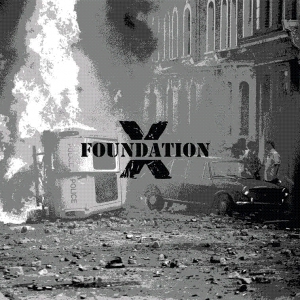 3.60 € (TTC)
Out of stock
Foundation X 04 review
Founded in 2009 by Skitty, 'Foundation X' quickly made an impression in the Drum And Bass Scene, releasing music from the likes of Nolige, Morphy, Loxy, Equinox,Skitty and many more, the label delivered raw undiluted ruffneck junglism to the people. Relaunched in 2015, Foundation X are now taking things to another level, with a series of ltd edition vinyl and top quality digital releases.

We cement our relaunch with the first ltd edition vinyl, 4 tracks from 4 artists, a true representation of the FDX vibe and style. Threshold, Nolige (aka SB81), Skitty and X Nation flying the flag for contemporary underground jungle in 2015 and beyond. With this selection of tracks we start as we mean to go on, in true roughneck fashion.

Threshold – Rasta Nuh Tell : Serious dubwise jungle with heavy, heavy discipline ya'll. Threshold's musical heritage is clear and put to deadly use.

Skitty – Tubby's : A rolling amen adventure from label boss Skitty with a nod to Bassbin Records and dub organiser King Tubby. Echo chamber in full effect and the result is authentic jungle vibes!

Nolige – 1900 Style : Dreamy pads in the intro make way for a devastating drop, amens and sub bass come together to cause danger, a badboy riddim firing pure shots!

X Nation – Spread Out & Scatter : Classic synth and vocals from the outset here build the vibe while the drop showcases some technical amen choppage which should have purists smiling and yet satisfy the dancefloor at the same time!
Customers who bought this item also bought
Customers playlists
August 10 created by toolbox records
Customers reviews
Express yourself, write a review