i
Dub-Stuy SP 13
by
Dubamine

Follow

, Nazamba

Follow
Label

: Dub-Stuy

Follow this label

Title

:

Cool & Relax

Reference

:

Dub-Stuy SP 13

Format

:

12''

Country

:

UK

Categories

: Dub / ragga,

Style

:

Dubstep, Dub

Weight

:

0.24

Release date

:

03/30/2023

Catalog entry

:

03/30/2023

Average rating

: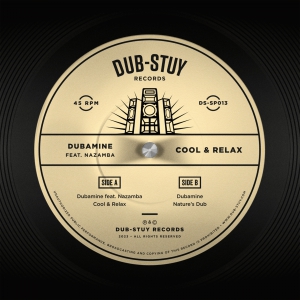 14.40 € (TTC)
Back in stock soon
Dub-Stuy SP 13 review
Dub-Stuy kicks off 2023 with a very special collaboration between Nazamba, the "voice of thunder," and California-based producer Dubamine. This is one of the last projects Nazamba recorded before his sudden passing following a string of singles on Dubquake records and a collaboration with The Bug. In his label return after a five-year hiatus, Dubamine showcases his trademark heavyweight production style which perfectly complements Nazamba's dub poetry, reminiscent of LKJ and Prince Far I. Together, they crafted a meditative anthem that is mellow and introspective, yet driving and dance inducing.

The release's title track, "Cool & Relax" is a welcome invitation to slow down, take a breather, and reconsider what is important in life. As mental health crises skyrocket and self-care becomes increasingly important, Nazamba invites the listener to disconnect from the stress of the city. His rhythmic and percussive chanting of "cool, relax, easy" brings to mind the thunder of a spring rain storm, tremendous, bright, and soothing. Dubamine's production emphasizes this sense of calm and contemplation while keeping the track rooted in the dancefloor, with its bubbling bassline and massive kick. With sharp percussion that bolster the vocals and a sitar melody that suggest an Eastern influence, "Cool & Relax" induces listeners into a meditative state, as Nazamba intones "peace and tranquility, at last." The B-side, "Nature's Dub", is an instrumental that expands on the meditation theme, this time through Dubamine's darker side. With bass heavy enough to shake the ground beneath your feet, combined with an ingenious use of samples and sonic wizardry, this is a dub for the true sound system fiends, with sub frequencies that pump through your veins like blood.

Music is the imprint that best honors the legacies of artists that left us. "Cool and Relax" is the perfect track to end a session, conjuring Nazamba as he would want to be remembered: an artist, a voice for change, and a source of power and inspiration. RIP George "Nazamba" Scott.
Customers who bought this item also bought
Customers playlists
This records is not playlisted so far...
Customers reviews
Express yourself, write a review