Vinyl Fanatiks 50
by
Chalke
Label

: Vinyl Fanatiks

Title

:

Moonbase Alpha, Quosh Up

Reference

:

Vinyl Fanatiks 50

Format

:

12"

Country

:

UK

Categories

: Ragga jungle, Electro / breaks,

Style

:

Jungle, Hardcore UK

Weight

:

0.24

Release date

:

05/15/2023

Catalog entry

:

05/15/2023

Average rating

: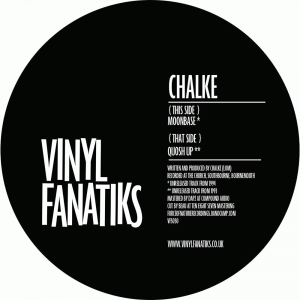 Vinyl Fanatiks 50 review
Vinyl only, no digital.

Chalke aka Life On Mars aka Forces Of Nature is a bit of a mystical legend
in the drum & bass circles. An old school friend of LTJ Bukem, the two of them grew up together in North London and it is down to him that Bukem started to DJ, with Chalke as his original MC!

This is the second release Chalke has done with Vinyl Fanatiks – his first was VFS002 which has long since sold out and already a collectable repress on Discogs.
Chalke was so far ahead of the curve in his production and ability to create tracks that surprisingly these two tunes were written in 1993 and 1994 and pre-date the whole 'intelligent' drum and bass movement that took over the globe in the mid-90s!

Both tracks were never released and have sat on DAT for 30 years… until now. 'Moonbase Alpha' is a cult track in the drum and bass world as it was played by Bukem during the mid-90s, both in his sets and on his Kiss show. Deep, rolling and beautifully progressive for the era. 'Quosh Up' is equally as stunning, musical and rolling… like one of Bukem's DJ sets during the Good Looking era.
Customers who bought this item also bought
Customers reviews
Express yourself, write a review