Label

: Ad noiseam

Title

:

Enduser Shares Needles With The Teknoist

Reference

:

Ad Noiseam 164 CD

Format

:

CD

Country

:

DE

Style

:

Broken hardcore, Hardstep, Breakcore

Weight

:

0.18

Release date

:

11/10/2012

Catalog entry

:

11/10/2012

Average rating

: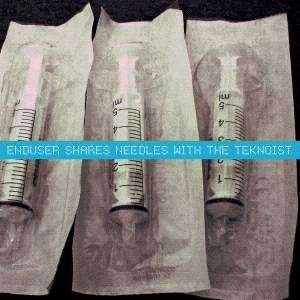 Ad Noiseam 164 CD review
One step ahead ! 10 years after "Panacea Shares Needles with Tarmvred", Needle Sharing comes back to Ad Noiseam for a new threeway collaborative project, this time pairing up with the renowned breakcore furies that are Enduser and The Teknoist. Three sound-pools, nine tracks, and three different ways to approach hard drum'n'bass, hardcore and breakcore: this new association gives birth an album which, however mercilessly hard and pounding it might be, also impresses by its diversity and the care given to its details it communicates. A long awaited, very welcome and impressively energetic album which is more than just the sum of its parts.
Other releases by
Enduser
Other releases by
The Teknoist
Customers who bought this item also bought
Customers reviews
Express yourself, write a review