Label

: Reggae Roast

Title

:

Lazy Man / Stand Firm

Reference

:

Reggae Roast 17

Format

:

12"

Country

:

UK

Categories

: Dub / ragga,

Style

:

Dub Roots, Electro Dub, Dancehall

Weight

:

0.24

Release date

:

11/23/2013

Catalog entry

:

11/23/2013

Average rating

: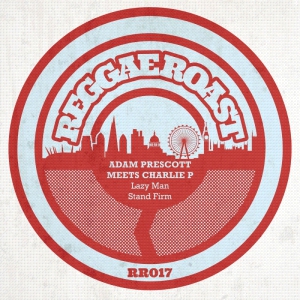 9.00 € (TTC)
Out of stock
Reggae Roast 17 review
Fat dub, with a good electro riddim and some sold bassline frointier... Dancehall Roots and deep dubstep... nothing escape this EP !

Their words :
Now on the seventeenth release of forward thinking UK Reggae & Dub music, Reggae Roast are going from strength to strength with many underground hits under their belt already in 2013. This release definitely follows suit, having already done the rounds on dubplate for many months and set alight dances all over the world. They've signed up one of the top up and coming UK producers, Adam Prescott, and one of the top mic men on the scene, Charlie P. On remix duty they've drawn for the vanguard of dub, Iration Steppas, and digikal stalwart, Tradesman.

With this double A-side release Reggae Roast have lined up two heavy hitting bubblers built to test any soundsystem. 'Lazy Man' is a contemporary steppas reimagining of the stone cold classic 'My Conversation' by the late, great Slim Smith which is accentuated by Charlie P's take on the advantages of being Lazy in modern day Britain. 'Stand Firm' on the flipside is a slice of ruff & tuff Rootstep with conscious lyrics from Charlie P alongside weighty bass assault and a hard rhythm section from Adam Prescott it's a stark contrast to 'Lazy Man'.

Straight outta Nottingham, Adam Prescott has been mashing up dances for many years now combining a crucial selection of dubplates and his own varied productions, which are always steeped in Roots music and Soundsystem culture. Having remixed some of the biggest names in Reggae & Dub such as Mungo's Hi-Fi, Iration Steppas, Part2Style, Alpha Steppa, Radikal Guru, Vibration Lab and many, many more over the course of his career he has been finally let loose on a Reggae Roast extended player.

Charlie P hardly needs any introduction, however if you have been living under a rock for the past few years he has worked with pretty much everyone worth their salt within the modern day Dub circuit, such as Mungo's Hi-Fi, Dubateers, Solo Banton, Part2Style to name but a few. Constantly touring the world and smashing Dancehalls on a regular basis Charlie shows no sign of slowing down, add to that he has just finished his second LP produced by none other than Scotland's finest, Mungo's Hi-Fi

In the Soundsystem game for over 20 years Mark Iration, one half of Iration Steppas (with Dennis Rootical), has been instrumental in the massive resurgence of Dub music over the past few years. Having set up the legendary Subdub sessions (alongside Outlook Festival's Simon Scott) to showcase the mighty Iration Steppas Soundsystem, Mark is one of the most in-demand selectors on the scene. As a supporter of Adam's work Mark has been playing his 'Year 3000 Dub' of 'Lazy Man' at nuff sessions across the world to sell out audiences. With another busy year planned hot off the back of their new LP 'Iration Steppas Meets Tena Stelin in the Dub Arena' Mark and the rest of the crew deserve their place at the top of the Soundsystem league.

Hailing from Leeds, Tradesman has been exposed to a hot bed of musical activity, more importantly Soundsystem culture, for a number of years. He is a resident at one of Subdub one of the UKs most renowned Dub nights, and regularly supports some of the most exciting artists in Dub music today playing sets where the majority of the tunes are his own productions. This has, in turn, led to Scotch Bonnet (Mungo's Hi-Fi imprint) snapping up his debut release with Parly B, 'Inna Competition' which gained support from some of the scene's top players and took Tradesman's ruffneck digital sound international. He has since followed up another releases on Reggae Roast Records, with Parly B again with the extremely well received 'Dubplate Fashion", cementing his place as possibly the most exciting young dub producer in the UK today.

Reggae Roast is building a formidable catalogue featuring some of the most exciting artists in the UK and beyond. Key players in the resurgence of the UK Roots scene over the past 5 years, they are a leading light in the new generation of dub music. Setting them apart from the crowd is their ruff n tuff remixes giving the label a unique cross over appeal. Look out for plenty more releases in the coming months from the likes of Dubmatix, Vibration Lab, Ed West, Parly B and many more.
Customers who bought this item also bought
Customers reviews
Express yourself, write a review