Label

: XRA

Title

:

Lurka x Bruce Present : XRA

Reference

:

XRA 01

Format

:

12"

Country

:

UK

Categories

: Future beats, Bass dubstep grime,

Style

:

Bass, Breakbeat, Future Beats

Weight

:

0.24

Release date

:

09/24/2022

Catalog entry

:

09/24/2022

Average rating

: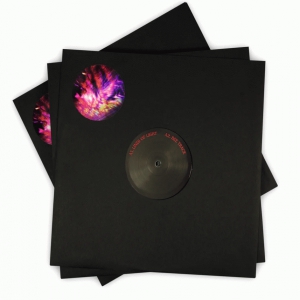 XRA 01 review
The new project from Lurka x Bruce: XRA!

Served up on a 12", put out in DIY style by the two on this new XRA-minded imprint, the two producer-extraordinaires come correct with four tracks of explosive experiments in sound and pressure.

Kicking off with 'Lines Of Light Leave No Trace', we hear a kind of signalling of the madness that ensues when these two are let loose on the full range of dynamic and frequency range, from warped vocals that splash through the speakerbox like waves of granular sound shot through the matrix in hyperspeed, to speed-modulated rhythmix and lessons in tension-release.

Now that you have been shot through the portal, it's time to get into it with the 2nd cut on this disc: Bee Track.
Bee Track goes full insectoid over a steppin', shoulder-rolling percussive underbody, pure trip-ready sonics that will make you do the headspin, weather you're a b-boy/girl or not.
Headnodding and foot-stepping is allowed, but this one's for the waistline too.
This one's an absolute treat, and the perfect middle ground between hyper-futuristic sound design, and good old fashioned musicality / danceability. Test it out for yourself.

Flip it, and you'll get the third slice of the madness:
'It Lives' let's Annhilation type synthesis sway in a kind of nightmarish contortion of junglist breakbeat ruffage and dreadnaught ambience. Once again, this one plays perfectly with tension and release, something Bruce has made his artform, and something that lends itself really well to Lurka's unique, and forward-thinking way of mixing dynamics, sound-design, up-for-it rhythm conduction, and a knack for some of the most serious, cantankerous bass we've heard since Dilly did his damage with the Valve soundsystem - honestly, this one's ruff, tough and dangerous. Highly emotive gear.

Last on this quadruple-threat of sonics and rhythms, we got 'DOINK!' and its final charge of overblown club sonics - shit, can I smell smoke? Something's burning I think?... Watch yer bassbins ladies and gentlemen.

Hell of a disc.
upfront copies right here, get 'em while they're hot.

Stickered sleeve, printed centre label.
Mastered and cut by Lewis at Stardelta, and sounding mighty good on the speakers.
Customers playlists
This records is not playlisted so far...
Customers who bought this item also bought
Customers reviews
Express yourself, write a review