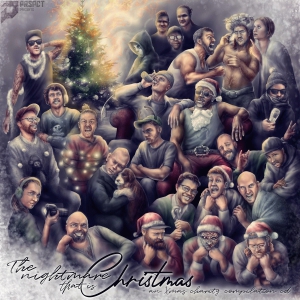 PRSPCT X-Mas CD review
Do they know it's Christmas at all? Seems that a bunch of pop singers in the 80s couldn't get the job done. Maybe we just need something that sounds a bit more... convincing?

Let's leave thoughts and prayers behind for a change and do some good for the kids in this world.

Did you know that there are more children living in conflict and war zones now than at any time in the past 20 years, as well as more child refugees.

Natural disasters are not only more frequent, but more severe. As always, children in crisis are among the most vulnerable. In particular, the more than 12 million refugee boys and girls now face a triple jeopardy. Not only have they lost their homes and lost their education, they now face the additional impact of COVID-19 on their futures.

PRSPCT Recordings "The Nightmare That is Christmas" Charity CD features new and exclusive Christmas songs written, produced and donated by Akira, Angerfist, C-Netik, Coco Bryce, Dart, Deformer, Doormouse, FFF, Hellfish, Kilbourne, Mat Weasel Busters & Tanukichi, Otto & Axl Von Schirach, Sinister Souls, S.Murk, Stefan The Storyteller, Strange Arrival, TDC INC., The Outside Agency & Tommy The Cat.

All proceeds of this CD will go to nonprofit organization "Save the Children".
Other releases by
Hellfish
Other releases by
Doormouse
Other releases by
The Outside Agency
Other releases by
Tanukichi
Other releases by
Coco Bryce
Other releases by
Tommy the Cat
Other releases by
FFF
Other releases by
Akira
Other releases by
Deformer
Other releases by
Sinister Souls
Other releases by
Dart
Customers who bought this item also bought
Customers playlists
This records is not playlisted so far...
Customers reviews
Express yourself, write a review