Galletas Bailables 03 - 1 Per Custommer de Pernett, Quantic
Label

: Galletas Calientes

Titre

:

Vamos A Hacer Edits

Référence

:

Galletas Bailables 03 - 1 Per Custommer

Format

:

10''

Pays

:

CO

Catégories

: Folktronic / postworld / jazz,

Style

:

Cumbia

Poids

:

0.24

Date de sortie

:

19/05/2019

Ajouté le

:

19/05/2019

Note moyenne

: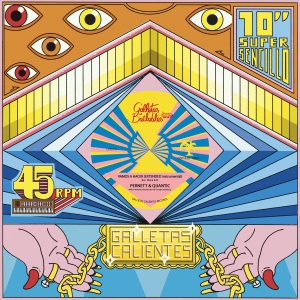 24.00 € (TTC)
Bientôt en stock
Galletas Bailables 03 - 1 Per Custommer Commentaire
LTD 300 - Printed Sleeve
------------------------

Barranquilla born multi-instrumentalist Pernett is undoubtedly a true pioneer in fusing Colombian folklore with electronic elements. Back in 2003, when he released his first album "Música Para Pick Up", Humberto was immediately seen as genius by some, crazy and outrageous by others. How dare he incorporate synthesizers into traditional music? What would be called this avant-garde genre where gaitas, traditional drums and keyboards come together? To this date, Pernett has released 6 albums, worked with an impressive number of prestigious artists such as Phil Manzanera, Calle 13, Novalima, or Quantic, and is still influencing whole generations of forward-thinking musicians.

Originally released from is latest album, "Vamos A Hacer" and El Pajarito have been edited for the occasion, by talented recording engineer Benjamin Calais AKA Ben Matik,

A-side "Vamos A Hacer - Ben Matik Instrumental Edit" is a joint collaboration between Pernett and renown British producer Will Holland aka Quantic. A heavy blend of funky breaks and cumbia. A 7-minutes version, exclusive to this 10″, has been especially taken out from the masters vault, and edited by Ben Matik: the original short version takes a unexpected turn to a completely freaked-out "Puya" rhythm, where gaitas and synths perfectly merge together.

B-side "El Pajarito - Ben Matik Instrumental Edit" is a deep downtempo anthem, a perfect fusion of powerful electronic beats, 808 bass, analog synths and gaitas. special attention should be paid to the enchanting voice of Diana Pereira on this one.

Artwork by Mateo Rivano.
Les titres
32960-01

Lado A - Vamos A Hacer -extanded Instrulental - Ben Matik Edit

32960-02

Lado B - El Pajarito - Instrumental - Ben Matik Edit
Les clients ayant acheté cet article ont également acheté
Commentaires client
Exprimez vous, rédiger un commentaire