i
Label

: Dubquake

Follow this label

Titre

:

ORIGINAL DUB D​.​A​.​T.

Référence

:

Dubquake LP 05

Format

:

2x12''

Pays

:

FR

Catégories

: Dub / ragga,

Style

:

Dub, Stepper, Roots

Poids

:

0.48

Date de sortie

:

21/10/2020

Ajouté le

:

21/10/2020

Note moyenne

: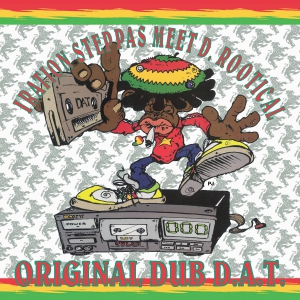 Dubquake LP 05 Commentaire
Founded in the early 90s, Iration Steppas burst onto the UK scene with a futuristic take on dub music. Native to Leeds, members Mark Iration, Dennis Rootical and Samy Dread quickly built their reputation and created their own militant sound internationally. While being inspired by Jamaican rocksteady and roots, their artistry was also massively influenced by hip hop, house and other electronic music, using techno and acid sounds in a way that was never heard before. This new sound baptized "Inna Year 3000 Style" was created by Mark and Dennis in their High Rise studio. The dub making duo spent countless nights mixing and producing on analog
gear such as an Akai S950 sampler.

In the last 30 years, the sound has become a major player in the international dub scene. Whether it's for hosting the famous Subdub nights held in Leeds West Indian Centre, playing at the best dances all over the world or cooking up monstrous dubs in their High Rise studio,
Iration continues to inspire the new generation. The crew has touched down on every continent shelling the dancehalls and leaving a huge impact on producers and sound systems alike. Often copied, never matched and always at the top of their game, Iration Steppas have clearly set new trends and shaped the history of dub.

To celebrate 30 years in the scene, Iration Steppas have teamed up with Dubquake Records to dust off their two first albums: "Original Dub D.A.T." and "Dubz From De Higher Regionz", released in 1996 and 2004 respectively. These ground-breaking albums are a testament to Iration Steppa's innovation. Considered classics, the announcement of this re release has caused a huge storm in the dub community.

Dubquake Records aren't simply doing a reissue, these new remastered editions are a complete upgrade from the original release: for the first time, the whole 15 tracks previously only available on the CD are getting pressed onto a double LP (only 8 and 10 tracks featured on the original vinyl releases). And icing on the cake, the artwork on the inner leaflet is made of old school pictures and flyers, taking you straight down memory lane. A crucial double release!
Les clients ayant acheté cet article ont également acheté
Commentaires client
Exprimez vous, rédiger un commentaire