Sozialistischer Plattenbau 12046 by F.K. Raeithel
Label

: Sozialistischer Plattenbau

Title

:

Die Wurlitzerorgel des Geistes

Reference

:

Sozialistischer Plattenbau 12046

Format

:

12"

Country

:

DE

Categories

: Ambient electronica, Pre-orders,

Style

:

Ambient, Experimental

Weight

:

0.24

Release date

:

10/28/2022

Catalog entry

:

10/28/2022

Average rating

: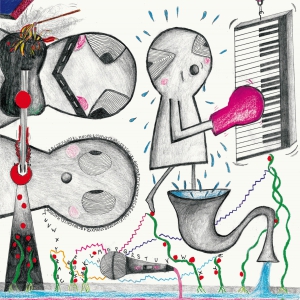 18.80 € (TTC)
In stock soon
Sozialistischer Plattenbau 12046 review
Musique concrète composed with erratic transistors, noddled & wiggled with wires in states of uncertainty. From berlin school to frankfurt school to north-sumatra the voice of apple speech synthesis is drain into the konsonantenzentrifuge and the leftover stammer of words treated by speech cleaning applications and autotuned speakers join into the play.
Customers playlists
This records is not playlisted so far...
Customers who bought this item also bought
Customers reviews
Express yourself, write a review