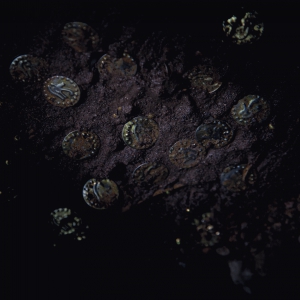 Souk 11 review
Souk is delighted to present the sophomore album from a true fixture in Cairo seething electronic scene who should, by now at least, remain anonymously famous behind the 3Phaz moniker. Both as a way to make focus on the music itself regardless of identity and to sever ties with past projects, 3Phaz acts like an entity in itself, a most suitable conjuration of sounds past and future gravitating on their own dimension. Though connections are inevitable and welcoming with home turf artists such as ZULI or Rozzma, the Souk catalogue or percussion obsessed travelers like DJ Plead or errorsmith, 3Phaz's dalliance with the traditional sounds of Shaabi and Mahraganat and possible intersections with Grime, Techno and Bass-heavy subcultures feel very much their own. Stripping away some of the dankest & darkest layers that made his debut album - Three Phase - such a dystopic proposition, Ends Meet envisions a different kind of future, that while not necessarily utopian, feels less tense and more celebratory in the capture and release mastery of its syncopations. Through seven percussion workouts summoned from hard hitting kicks, flinty hand drums, darting rhythmic excursions and traditional flute-like synth melodies, 3Phaz creates a set of raw and ever-intriguing dj tools for adventurous dancefloors that escape the mere functionality associated with the term to bristle with a life of their own.
Customers who bought this item also bought
Customers playlists
This records is not playlisted so far...
Customers reviews
Express yourself, write a review