Label

: Moonshine

Title

:

BUKKHA... In Roots Vol 1

Reference

:

Moonshine LP 13

Format

:

2x12'' and download

Country

:

PL

Categories

: Dub / ragga,

Style

:

Dub, Dancehall, Rootd

Weight

:

0.48

Release date

:

09/09/2021

Catalog entry

:

09/09/2021

Average rating

: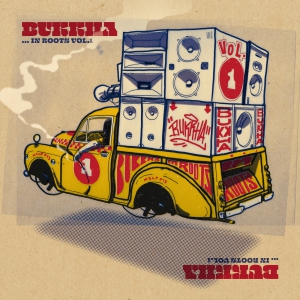 Moonshine LP 13 review
Ready to chant down Babylon with musical
fire and brimstone, none other than Bukkha
returns to the revered Moonshine Recordings
with a truckload full of sound system music in
Roots Dub and Stepper style. Ten organic
heavyweight cuts on 2x12" - strictly dubwise,
no compromise!
Originally from the US and now residing in
Spain, a musical veteran with a career
spanning more than a decade, it's safe to say
Bukkha runs things when it comes to fuelling
sound systems. On top of his long-standing
involvement in the thunderous Moonshine
Rec. discography, the prolific artist maintains
a consistent record of top-shelf releases on
numerous famed record labels within the
global melting pot of Dub-influenced dance
music, including System Music, Dub-Stuy,
Lion Charge, and so on. His 'In Roots Vol. 1'
debut LP features seven talented guest artists
from around the globe, the extended Dub
family in full force and effect - connected to
Bukkha through previous projects, shared
tours and overall engagement in the scene.
The symbiotic nature of the collaborations can
be heard and felt as big stacks of speakers
lend their voice to the musical message.
Rebellious sounds for the healing of the
nation. In a conscious stepper style, the
release marches through original future
classics - whether instrumental or led by the
Rastafarian teachings of Mowty Mahlyka,
anthem brass melodies by JahWind All-Stars,
harmonica meditation by Hazeldub or Don
Fe's notoriously brilliant flute virtuosity. With
true to the roots delay and reverb effects in
the original Dub fashion, the album pays
tribute to the technique pioneered by the likes
of King Tubby, nothing less than a next generation torchbearer. Sound system music,
as timeless as its cultural heritage.
Customers playlists
This records is not playlisted so far...
Customers who bought this item also bought
Customers reviews
Express yourself, write a review