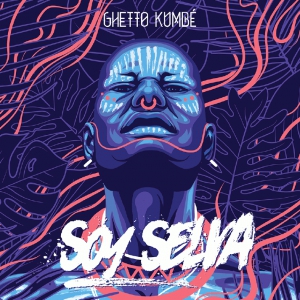 Galletas Calientes 11 Commentaire
A journey to the rhythmic Afro-Caribbean roots of Colombia fuelled by the hypnotic power of African house beats" - Sounds and Colours.
Colombian Afro-Caribbean House band Ghetto Kumbé is back with another banging 5 tracks EP., produced with Uk based The Busy Twist.
Formed in 2015, Ghetto Kumbé is composed of three of the most skilful musicians from the popping modern Colombian scene, all of indigenous and African origins .
Multi-instrumentalist "El Guajiro" also sings in the amazing salsa band "La 33" and used to perform in Richard Blair's "Sidestepper".
Having worked with legendary Toto La Momposina or Quantic's Ondatrópica among many others, Chongo's percussions are truly part of the Colombian musical heritage.
"Doctor Keyta", for his part, has dedicated his life to learning how to master the art of playing African percussions.
"Soy Selva" transalted as "I'm Jungle" is about the ancient people of Colombia, their traditions, their relations with mother nature, universal respect and ritual dancing.
However, there's much more about this EP than the ultimate innovative act from the emerging Colombian melting pot.
The featuring of Ghanaian singer Zongo Abongo on "Dagbani Dance" takes the listener even deeper in Africa than the band's previous productions, and the involvement of young and talented, London native producer The Busy Twist put together three continents in this unique musical adventure.
Feel the gaitas, marimbas, and percussions of the Caribbean Coast of Colombia, the enchanting voices of Africa and the powerful electronic beats from the UK bass music scene.
Les clients ayant acheté cet article ont également acheté
Commentaires client
Exprimez vous, rédiger un commentaire