i
Galletas Calientes COLSING1
de
Los Bulldozer
Follow
Label

: Galletas Calientes

Follow this label

Titre

:

Funky Amor

Référence

:

Galletas Calientes COLSING1

Format

:

12''

Pays

:

CO

Catégories

: Folktronic / postworld / jazz,

Style

:

Latin, Soukous, Cumbia, Champeta, Reggaeton

Poids

:

0.24

Date de sortie

:

28/09/2020

Ajouté le

:

28/09/2020

Note moyenne

: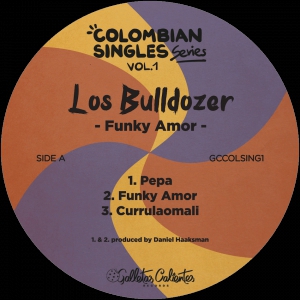 Galletas Calientes COLSING1 Commentaire
From the fertile electronic, post-folk depths of Colombian music, the tasty "Colombian Singles series" has emerged to cast light on a blooming, rapidly expanding scene. The series is envisioned as a showcase for the country's growing number of producers who, drawing upon their Indigenous, African and European roots and cultures, are creating new approaches to electronic dance music.
Hailing from the countryside near Bogotá, where the huge city reaches down into its more tropical surroundings, Los Bulldozer is the perfect combo to inaugurate this new musical adventure. Led by the unearthly guitarist Fabian Morales and his mind-bending experiments, Los Bulldozer have their own particular way of bringing international influences like Soukous, West-African blues and post-punk to the already exquisite musical diversity of key Colombian styles such as Currulao, Champeta, and Reggaeton.
Partly produced by the German godfather of global beats Daniel Haaksman, highlights on this first volume include the heavy indie dance cut 'Pepa', emotive Pacific blues guitars and eerie haze of 'Currulaomali', and the industrial reggaeton 'Commin Down'. And there's (a lot) more...
Not your usual sun-kissed summer vibe, but a deeper, moody interpretation of the dualities felt under equatorial latitudes.
Les clients ayant acheté cet article ont également acheté
Les playlists de la communauté
Commentaires client
Exprimez vous, rédiger un commentaire