Label

: Moonshine

Title

:

Stay Calm ft. YT (remix) / Earthwalker (remix)

Reference

:

Moonshine 24

Format

:

12" 180g Khaki Marbl

Country

:

PL

Categories

: Dub / ragga, Bass dubstep grime,

Style

:

Ragga Dubstep, Dub, Bass, Dubwise

Weight

:

0.25

Release date

:

03/26/2016

Catalog entry

:

03/26/2016

Average rating

: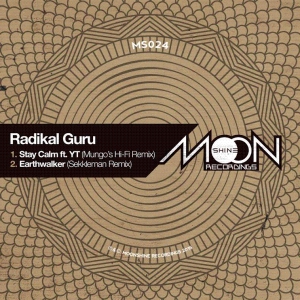 10.19 € (TTC)
Out of stock
Moonshine 24 review
After Violinbwoy's successful 'Mono County' twelver and Moonshine's tight collaboration with Steppas Records, the imprint is ready to march on and announce its next 12-inch coloured vinyl release waiting in line.

The mighty Mungo's Hi-Fi and Sekkleman have taken up Radikal Guru's (RG) prolific'Subconscious' long player. Each has picked a track of choice to lengthen and relive the Polish sound of 2013. With a remix of originals 'Stay Calm ft. YT' and'Earthwalker, the imprint's back catalogue is steadily shifting the sediment of dub(wise) music.

Mungo's Hi Fi's take on RG's 'Stay Calm' is a meditative jam that reaches out to the most high. The track is led by a low- toned bassline that immerses listeners in lo-fi tremor. It shakes chest plates, while YT's blessed vocal work transcends the average dub plate. His energetic lines of wisdom align with Mungo's futuristic drum work; all to forge a revolutionary sound that honours RG's dub style. Guided by several melody leads, swinging flows and sample tweaks, this rework really sets a groove of its own.

The flip side of 'MS024' reaches out to a confident steppa-style production that will remind many of scene favourite Gorgon Sound. The Australian-based Sekkleman has an exciting go at reinterpreting 'Earthwalker' in his own profound way: a pounding kick, rowdy b-lines and an enthralling flute escort listeners through the path to Jah. The mental atmosphere that follows suit sets a tone that touches upon RG's original intentions. It bundles the roots of this stepper, allowing it to effectively trigger a journey that eases down the brain; just close your eyes and skank towards peace and unity.
Tracks list
25109-0

a. Radikal Guru - Stay Calm ft. YT (Mungo's Hi-Fi remix)

25109-1

b. Radikal Guru - Earthwalker (Sekkleman remix)
Customers who bought this item also bought
Customers reviews
Express yourself, write a review