Label

: Kingston Sounds

Title

:

Treasure Isle 1966- 1968

Reference

:

Kingston Sounds LP 79

Format

:

12''LP

Country

:

UK

Categories

: Dub / ragga,

Style

:

Reggae, Dub

Weight

:

0.24

Release date

:

11/17/2021

Catalog entry

:

11/17/2021

Average rating

: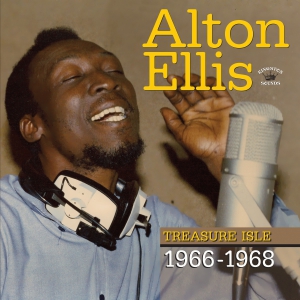 20.52 € (TTC)
Out of stock
Kingston Sounds LP 79 review
Alton Ellis is one of the finest soulful voices to come out of Jamaica. As well as writing hit singles himself he could make a cover version known as a foreign tune sound like a Jamaican reggae tune with the greatest of ease.

As the more upbeat rhythms of the earlier `Ska' period began to slow down around the turn of 1966 some say due to the extreme heatwave that hit the island of Jamaica that year, slower rhythms suited the people to groove to at the various sound systems and

dances. This also allowed the singers to express themselves more and allow the song to shine through. No one did this better than Alton Ellis.

Alton Ellis (b.1944, Kingston Jamaica) started off singing at an early age as part of a duo with singer Eddie Perkins and recorded for both Studio One and Randy's as 'Alton and Eddy' and had a massive hit with the song 'Muriel'. The singing pair went their separate ways Alton going solo with Studio One and being a much in demand voice also recorded with Duke Reid's Treasure Isle studio as 'Alton Ellis and The Flames'. As we stated earlier as the beat slowed down the top singers shined through and Alton Ellis reigned supreme.

One of his tunes that we feature on this set 'Get Ready (Do the Rocksteady) even gave this period in reggae's history its name 'Rocksteady'. It's this fantastic period Rocksteady 1966-1968 that we feature on this release. This set carries all the big hits 'Ain't That

Loving You, 'Girl I've Got A Date', 'Cry Tuff' alongside many more classics. All cut at Treasure Isle songs that really defined the era.

So sit back and enjoy the Rocksteady sound at it's finest...
Customers playlists
This records is not playlisted so far...
Customers who bought this item also bought
Customers reviews
Express yourself, write a review