Label

: Kingston Sounds

Title

:

Sound System Rockers - Kingston Town 1969-1975

Reference

:

Kingston Sounds LP 01

Format

:

LP

Country

:

UK

Categories

: Dub / ragga,

Style

:

Reggae Rootd, Dub, Rock Steady

Weight

:

0.30

Release date

:

02/27/2016

Catalog entry

:

04/06/2021

Average rating

: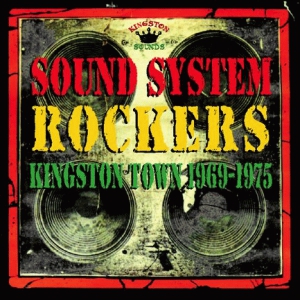 Kingston Sounds LP 01 review
The Sound System has become part of todays musical/cultural heritage,playing the peoples favourite hits or just as importantly, breaking some new tunes. But perhaps less known are the roots of the Sound System, which began Wey Back When...in Kingston, Jamaica. Around the late 1940's The Sound System began to overtake the Big Bands that usually played at the dances, in Kingston. The American Rhythm & Blues records that were so popular at the time would find there way to Jamaica via the merchant sailors and migrant workers returning from stints working in America. For economical reasons alone it would pay to have a DJ on hand to play these hits rather than a full sometimes up to 10 piece band that could easily eat and drink the promoter out of house and curried goat!!!. The early Sound Systems were basic affairs built around a single record deck, a valve amp and a speaker. But by the 1950's they had grown to purpose built speakers the size of wardrobes that could be heard many blocks away. The larger these systems the better. Record producer Bunny 'Striker' Lee would remember from the time "Sound System was like our radio station..not many people on the island would own a wireless, so it was the way for the people to here there music". These 'House of Joys' as they were affectionately known were run by the likes of Tom the Great Sebastian who would have people like the legendary Duke Vin [who would go on to be the first system operator in England when he emigrated there years later] spinning his tunes. But by the mid 1950's a new name would come on the scene that would change and add something special to the dance, Clement Seymour Dodd [A.K.A. Coxsone]. Coxone Dodd began playing tunes outside his parents Liquor store situated on Beeston street, in Kingston. He noticed on subsequent record buying trips he made to the U.S.A., that the American Deejays would talk and introduce the songs. Liking this effect he got his deejay Count Machuki [b.Winston Cooper, 1939 Kingston, Jamaica] to drop lines over the introductions of the tunes, making him the first DJ in Jamaica... and starting a new musical trend. Coxsone's Sound System called 'Sir Coxsone Downbeat' began to grow from playing small venues like the Red Rooster on Tower street to larger affairs like Forresters Hall, that could accommodate many hundreds at a time. Demand was big and Coxone would be running up to four separate Systems on the same night spread around Kingston. Aided by some of his other DJ's like the great King Stitt [b. Winston, Sparkes]. The big three sound system operators of the time were Coxone, Arthur 'Duke' Reid, an expoliceman, who ran his mighty 'Trojan Sound'. Usually with a rod of iron and two guns, which he wore at all times. And thirdly Vincent 'King' Edwards. Who ran the most powerful simply known as the 'Giant'.
Customers playlists
February 22 created by toolbox records
Customers who bought this item also bought
Customers reviews
Express yourself, write a review