Kingston Sounds LP 45 by Leroy Smart
Label

: Kingston Sounds

Title

:

The Don Tells It Like It Is...

Reference

:

Kingston Sounds LP 45

Format

:

12''LP

Country

:

UK

Categories

: Dub / ragga,

Style

:

Dub Roots

Weight

:

0.30

Release date

:

02/04/2022

Catalog entry

:

02/04/2022

Average rating

: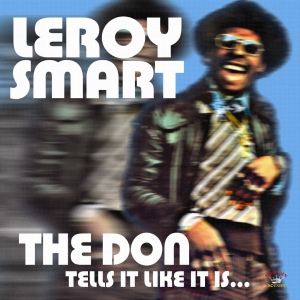 Kingston Sounds LP 45 review
Leroy Smart the self proclaimed 'Don', carries much respect in the Jamaican musical community. His attacking vocal style gives his lyrics and tunes that extra meaningfulness. Born 1952, Jamaica, orphaned as a young child, Leroy was sent to Maxfield Park children's home and educated at the famed Alpha Boys School. The school was run by nuns who encouraged musical talent and would provide the world with the cream of Jamaica's artistic talent. Such legends as Don Drummond, Tommy McCook, Johnny' Dizzy' Moore, to name but a few, all learnt their musical trade in this strict environment. Leroy's first single 'It Pains Me' was cut in 1969, his first hit came in 1973 with 'Mother Lisa'. Leroy worked with many Jamaican producers including Gussie Clarke, but seemed to find his musical feet working with Bunny 'Striker ' Lee, with whom he cut many of his greatest tunes. It's from this period that we have compiled this album. All great tracks cut over some of Bunny Lee's greatest rhythms. 'God Helps The Man' also cut in 1973, and 'Wreck Up My Life' another big hit for Leroy. 'Mr Smart', 'Pride And Ambition'. 'Jah Jah Forgive Them' which ultilises Bunny Lee's 'Conversation' rhythm, originally backing Slim Smith's hit of the same name. 'Man Is Great', 'Bad Minded People', and the timeless 'Mr Richman', telling the still prevalent story of rich against poor. His distinctive vocal style and meaningful lyrics weaves like a musical thread, that ties this great set of tunes together. Such was Leroy Smart's stature in his homeland Jamaica, that when the 'One Love' peace concert lineup was put together for the 22nd of April 1978. The best of Jamaica's Reggae stars were picked to play alongside Bob Marley & the Wailers. Such greats as Dennis Brown, The Mighty Diamonds, Peter Tosh and Inner Circle were chosen alongside the Don himself, whose stage shows were always colourful and to say the least eventfull. Mr Leroy Smart, the Don Tells it like it is…. every song a story in itself . Hope you enjoy the set.
Customers who bought this item also bought
Customers reviews
Express yourself, write a review