Kingston Sounds LP 49 by Tapper Zukie
Label

: Kingston Sounds

Title

:

The Man From Bozrah

Reference

:

Kingston Sounds LP 49

Format

:

LP

Country

:

UK

Categories

: Dub / ragga,

Style

:

Roots Dub

Weight

:

0.24

Release date

:

03/29/2014

Catalog entry

:

03/29/2014

Average rating

: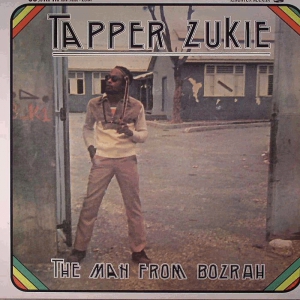 17.40 € (TTC)
Out of stock
Kingston Sounds LP 49 review
Tapper Zukie's 'Man From Bosrah' album still stands up today many years after its initial release, as only great music seems to do. Tapper was one of the few Jamaican artists in the late 1970's, that crossed over with the emerging punk/New Wave audience. Punk poet Patti Smith had practiced her poetry over the rhythms from Tapper Zukie's 'Man Ah Warrior' album, before reworking them as songs with her band. Acknowledging this influence she brought Tapper on stage with her at the Hammersmith Odeon 23 October 1976 and introduced Tapper to a whole new Punk/New Wave audience. An audience that accepted reggae as a music that also dealt with struggle and oppression. Her link carried through to this 'Man from Bosrah' set due to an accident in which she fell off stage at one of her gigs at the Curtis Hixon Hall, Tampa, Florida USA, on the 23rd January 1977, injuring her neck. The recovery was slow but she explained that during the fall she had thought of Tappers music and it was his music that had brought her back from the darkness. She wrote a poem Tapper Extraction which was reproduced on the initial release of this album. We had included it with this re-release as the two items now seem inseparable. The cover shot shows Tapper standing at the back gates of the school yard in trench town which was opposite his own yard...... sit back listen/read/ hear what was happening back then and made such a time defining album. Hope you enjoy the set.
Customers who bought this item also bought
Customers reviews
Express yourself, write a review