Jamaican Recordings LP 51 by King Tubby
Label

: Jamaican Recordings

Title

:

Hometown Hi-FI Dubplate Specials 1975-1979

Reference

:

Jamaican Recordings LP 51

Format

:

12''LP

Country

:

UK

Categories

: Dub / ragga,

Style

:

Reggae, Dub

Weight

:

0.24

Release date

:

11/17/2021

Catalog entry

:

11/17/2021

Average rating

: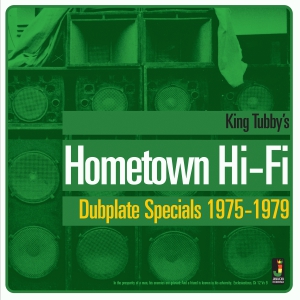 Jamaican Recordings LP 51 review
King Tubby's Hometown Hi-Fi was one the great Sound Systems in Jamaica. It also proved a fantastic outlet for the Dub Plate Specials cut at Tubby's studio, providing exclusive cuts to be played out and to intice the dance's audience. The tracks at the time were mainly cut over producer Bunny 'Striker' Lee rhythms, that Bunny stored at Tubby's studio which was in fact his home, 18 Drumilly Avenue,Kingston, Jamaica.The versions were given exclusive plays at Tubby's sound before some finding their way on to vinyl, as the b-side version cut to it's a-side vocal, proving so popular that the records were often brought for its version side over its vocal counterpart.

King Tubby and Producer Bunny 'Striker' Lee are intertwined in the birth of Dub Music, after discovering a mistake that made a 'serious joke' (more of which later...) they went on to release the first pressings of this new musical genre namely 'Dub Music'. Tubby's vast knowledge of electronics and Bunny's vast catalogue of rhythms would lay the foundations of what today is taken as a standard... the Remix / Version cuts to an existing vocal tune.

Osbourne 'King Tubby' Ruddock was born in Kingston, Jamaica on 28th January 1941 and grew up in the High Holborn Street area of downtown Kingston. He studied electronics at Kingston's National Technical College and on two correspondence courses from the U.S.A... When he had qualified Tubby began repairing radios and other electrical appliances in a shack in the back yard of his mother's home. His work in the early days included winding transformers and building amplifiers for Kingston's Sound Systems. Tubby built his first Sound System in 1957 playing jazz and rhythm & blues at local weddings and birthday parties. His reputation as a man who knew and understood both electronics and music grew steadily and as the sixties drew to a close.Tubby purchased his own basic two track equipment. He installed this alongside his dub cutting machine, a homemade mixing console and his impressivecollection of Jazz albums in the back bedroom of his home at 18 Dromilly Avenue which he christened his music room.

Tubby and Striker were at Treasure Isle Studio's one day while Ruddy from Spanish Town was working with the engineer Byron Smith....
Customers playlists
This records is not playlisted so far...
Customers who bought this item also bought
Customers reviews
Express yourself, write a review