Label

: Jamaican Recordings

Title

:

At Dub Station

Reference

:

Jamaican Recordings LP 06

Format

:

LP

Country

:

UK

Categories

: Dub / ragga,

Style

:

Dub, Reggae

Weight

:

0.24

Release date

:

10/31/2015

Catalog entry

:

09/20/2021

Average rating

: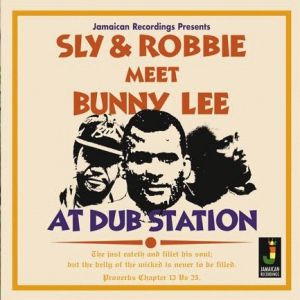 15.50 € (TTC)
Out of stock
Jamaican Recordings LP 06 review
Sly Dunbar and Robbie Shakespeare or Sly and Robbie as they are affectionately
known are the drum and bass backbone of Reggae Music, they have played on,
produced, invented, reinvented more records then many of their contemparies
put together.

Sly Dunbar born Lowell Charles Dunbar on 10 May 1952, Kingston, Jamaica, drummed
his first session for Mr Lee Perry which included a Jamaican hit ,a track called 'Night Doctor',
before moving on to the group Skin ,Flesh & Bones who had a residency at Kingston's famous
'Tit for Tat' club.This band would evolve into the Channel One house band The Revolutionaries
where Sly named after his fondness of the band Sly and the Family Stone would begin to
play along side a bass player who would become his long standing partner in music,
namely one Robbie Shakespeare.

Robbie Shakespeare born 27 September 1953, Kingston, Jamaica, had worked his way
through session bands including the legendary Aggrovators before uniting with Sly Dunbar
in The Revolutionaries. Both musicians had worked with other respective bass / drum players
including such figures as Lloyd Parks [bass], Carlton 'Santa' Davis [drums], but everything
seemed to fall into place when they worked together. They also both had a quest to push
the boundaries of reggae music,which they would do throughout their careers, over many
sessions to numerous to mention. But highlights would include the ground breaking Mighty
Diamonds 1976 set 'Right Time' with its fresh rockers rhythms which lead the way in the
1970's.Also their work with the bands Culture and Black Uhuru the later of which they
toured extensively with,spreading the reggae vibes across Europe and America. Not to
forget to mention their Taxi label / productions which are always inventitive whether its
in the reggae field or outside where their playing / production skills are much in demand.

The third piece of this jigsaw is the mighty Mr Bunny 'Striker' Lee who brought these legends
together .Born Edward O'Sullivan Lee 23 August 1941, he must be one of reggae's most
underrated producers.Leading the way in the 1970's especially in the dub field and being
one of the early exponents of a King Tubby remix ,which would see nearly all his 7'' releases
carrying a Tubby reworking on its flip side.Bunny started his musical career in 1962 working
for Duke Reid's Treasure Isle label and soon moved into the world of production gaining his
first hit in 1967 with 'Musical Field' by Roy Shirley for the WIRL label. The 1970's was a very
productive time for Bunny Lee and saw the launch of his LEE'S label which was producing
hits in Jamaica. Not having a studio of his own and renting studio time from the existing
establishments like Randy's Studio 17 and Channel One he had to have a crack team of
session players to carry out this task, fast and efficiently. This happened firstly under the
guise of THE AGGROVATORS [ see The Aggrovators dubbing it studio 1 style JRCD005]
and then with the group of musicians THE REVOLUTIONARIES[ see The Revolutionaries
at Channel 1 dub plate specials JRCDOO3] . Its here in the latter of these groups that Bunny
matched Sly and Robbie together for the first time and its this match made in heaven that
these tracks on this release are culled from. Sessions that Bunny Lee produced with
Sly and Robbie during this magical 70's period. These rare dubs are taken from the
original master tapes, you may have heard the tune before but not these versions.
Customers who bought this item also bought
Customers reviews
Express yourself, write a review