Jamaican Recordings LP 31 by Jackie Mittoo
Label

: Jamaican Recordings

Title

:

Rides On

Reference

:

Jamaican Recordings LP 31

Format

:

LP

Country

:

UK

Categories

: Dub / ragga,

Style

:

Roots Dub

Weight

:

0.26

Release date

:

01/11/2014

Catalog entry

:

01/11/2014

Average rating

: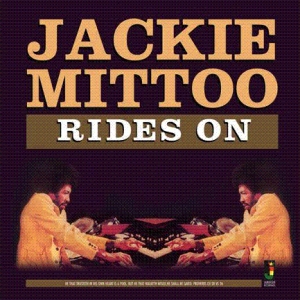 15.00 € (TTC)
Out of stock
Jamaican Recordings LP 31 review
Jackie Mittoo, organ and piano maestro, was also one of the founding
members of Jamaica's top session band The Skatalites. Musical arranger for Studio One
he provided the backbone to so many of Jamaica's finest tunes. The invention of Ska music
and the sounds that rode through the Rocksteady and Reggae period all carry his stamp.
Whether it be in his various incarnations, the aforementioned Skatalites, The Soul Brothers,
Soul Vendors and the Sound Dimension or under his own name, his distinctive organ and
piano sound and musical arrangements have all played a major part in Jamaica's musical history.

Jackie Mittoo (born 1948, Kingston, Jamaica) began playing musical instruments at a very
early age. Taught piano by his grandmother he was performing live by the age of 10 and
recording by the age of 15. Two Kingston bands that he played with the Rivals and the
Sheiks brought him to the attention of Studio One's founder Coxsone Dodd. Who at the
time was putting a group of musicians together to be his studio band. Impressed by his skills
on both the organ and the piano, Jackie was asked to join in what would become Jamaica's
foremost band The Skatalites. The fellow band members were Lloyd Brevett (bass),
Lloyd Knibbs (drums), Don Drummond (trombone), Tommy McCook, Roland Alphonso
and Lester Sterling (Sax), Johnny Moore (trumpet), Jah Jerry (guitar) and Mr Mittoo (piano).
This line up ruled the Jamaican scene between 1964 - 1965 as well as inventing the Ska
sound, they also performed the backing duties for the other top labels of the time including
Duke Reid's Treasure Isle and Justin Yap's Top Deck label.

1965 saw The Skatalites disband and Jackie Mittoo move on to his next musical project
The Soul Brothers. Formed with fellow Skatalite Roland Alphonso, this band would back
all the hits coming out of Studio One for the next three years with Jackie Mittoo working as
band leader and musical arranger. Around this time Jackie also had his own single released,
a Ska underground classic called 'Got My Bugaloo'. Rare, as it also features Jackie in the
unusual role for him, as lead singer!!!!.

1966 saw the Ska sound evolve into Rocksteady, again with Jackie's band at the helm,
and his first hit single the Rocksteady cut 'Ram Jam'. The success of which would lead to
a solo career and album releases under his own name such as 'Now', 'Macka Fat',
'Evening Time', 'In London' and 'Keep on Dancing', to name but a few. In1967 the hits at
Studio One were still flowing when The Soul Brothers morphed into The Soul Venders
and began backing such luminaries as Ken Boothe, Alton Ellis, Delroy Wilson, The Heptones,
The Cables, The Wailers and many other of the labels solo artists. By 1968 Jamaican music
was ready for another change and Rocksteady rolled into a slower groove soon to be called
Reggae. Jackie Mittoo would be at the forefront with his latest band The Sound Dimension.
A line up that included Leroy Sibbles (bass), Roland Alphonso and Cedric Brooks (saxophone),
Eric Frater and Ernest Ranglin (guitar) and Bunny Williams (drums). Being the house band
at Studio One they backed all the leading names of the time, John Holt, Horace Andy and
Alton Ellis, all of Studio One's output carried his sound.

Jackie Mittoo emigrated in the late 60's to Canada, but travelled to Jamaica and London to
record with many of the big new names, who were trying to redress Studio One's supremacy
and needed his magic touch. Such Producers as Bunny Lee used Jackie Mittoo on many of
his sessions, Sugar Minott among others were always glad of his services.

We have captured some fine 1970's cuts that feature Jackies numerous
talents, showing his ability to embellish tracks with a feel that few could better, Musical
arranger, band leader all round studio ace. We hope you enjoy the set and I'm sure you'll
agree with us Jackie Mittoo does indeed Ride On........
Customers playlists
Roots Dub created by Ruff_Lion
Customers who bought this item also bought
Customers reviews
Express yourself, write a review