Label

: Jamaican Recordings

Title

:

At Joe Gibbs

Reference

:

Jamaican Recordings LP 26

Format

:

LP

Country

:

UK

Categories

: Dub / ragga,

Style

:

Dub roots

Weight

:

0.24

Release date

:

01/10/2015

Catalog entry

:

01/10/2015

Average rating

: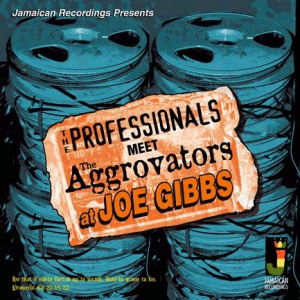 16.97 € (TTC)
Out of stock
Jamaican Recordings LP 26 review
The unsung hero's in the History of Jamaican music can be traced back to the musicians
who cut the thousands upon thousands of tracks that we know and love today.
Each Producer or Studio in Kingston Town Jamaica, would use their own group of
musicians that they favoured. In some cases the musicians would overlap and be
involved in more than one project at the same time.
A prime example of this would be the two bands The Professionals and The Aggrovators.

The same pool of musicians in this case would include: Carlton 'Santa' Davis, Carlton Barrett
(Drums), Robbie Shakespeare, Aston 'Family Man' Barrett, Lloyd Parks (Bass).
Earl 'Chinna' Smith (Lead guitar), Tony Chin, Winston 'Bo Beep' (Rhythm Guitar).
Ansel Collins (Piano), Bernard 'Touter' Harvey, Winston Wright (Organ). The mighty horn
section could at any time consist of, Bobby Ellis (Trumpet), Vin Gordon (Trombone).
Tommy McCook (Tenor Saxophone) and Lennox Brown (Alto Saxophone). When Joe Gibbs
recorded his sessions the set of players would go under the guise of The Professionals and
when producer Bunny Lee hired the group it would be called The Aggrovators.

Joe 'Joel' Gibbs (b.1945) moved to Kingston Town around 1962. His vast knowledge of
electronics lead to the opening of his first shop selling and repairing Radio & Television sets.
Its location happened to be opposite Leslie Kong's Beverley's Ice Cream Parlour & Record Store,
and on noticing the draw Leslie's shop was getting from the record buying public, it seemed only
natural to follow suit. Working alongside singer Roy Shirley now as a producer Joe would meet
up with fellow entrepreneur Bunny Lee and a friendship/working relationship was born.

Out of the two producers Joe Gibb's recording activities would see him opening his first studio
in the Duhaney Park area of Kingston. Bunny Lee tended to use the various studio set ups
around town, for his recording sessions. A further chapter in this tale would be the arrival of
Errol 'E.T.' Thompson. Joe Gibbs met the engineer when in 1971 he opened another shop/studio
on Retirement Crescent. Errol Thompson was working across the road at Randy's Studio 17
above the record shop of the same name. They would soon hook up when Errol moved across
the road permanently to become Joe's in house engineer. The mighty Two Production team was born.

Errol Thompson engineered many of the tracks we have put together for this album. His skills
being next to none and added so much to the quality of the sessions he was involved in.
He was Joe Gibbs eyes and ears and cut the sessions ready for Joe's final approval.
His personal touches especially on the dub cuts,can be heard with his use of reverb alongside
echo, and at the time some very off the wall sounds.Always adding a bit of magic to all his session
work. A further twist to this story would see producer Bunny 'Striker' Lee finally getting his own
studio, when he took over Joe Gibbs Duhaney Park establishment many years later.

So two band names,one set of musicians, two producers, one engineer and one agender.
Some of the finest dubs around, The Professionals Meet The Aggrovators at Joe Gibbs in fine form....

Respect Jah Floyd.
Customers playlists
This records is not playlisted so far...
Customers who bought this item also bought
Customers reviews
Express yourself, write a review