Jamaican Recordings LP 44 by Tappa Zukie
Label

: Jamaican Recordings

Title

:

In Dub

Reference

:

Jamaican Recordings LP 44

Format

:

LP

Country

:

UK

Categories

: Dub / ragga,

Style

:

Roots Dub

Weight

:

0.24

Release date

:

03/29/2014

Catalog entry

:

03/29/2014

Average rating

: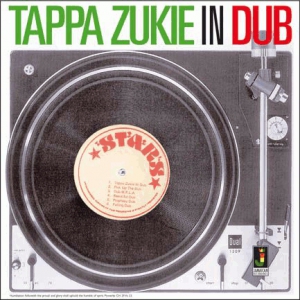 15.84 € (TTC)
Out of stock
Jamaican Recordings LP 44 review
Tappa Zukie's 'In Dub' album must stand as one of the great dub releases to come out of Jamaica. Originally released in the mid 1970's, a time some say to be the finest period in Reggae and especially Dub. It still holds its own many years later even though coming from that Golden period when the competition was great and plentiful.Tappa Zukie (b. David Sinclair, Kingston, Jamaica) had become producer Bunny 'Striker' Lee's right hand man within the late night recording sessions that took place in the 1970's. A session would almost not begin till Tappa was by his side. Initially for security purposes as Tappa had a great respect among the ghetto youth but also gradually to take over the task of session organiser.Making sure all was in place for the recordings to run smoothly. Being in such an advantageous position led to Tappa wanting to run and produce his own sessions. Tappa Zukie had already released his first single 'Judge I O Lord' for Producer Lloydie Slim using Bunny Lee's version to the 'Drum Song' rhythm as its back drop. Bunny Lee had also released Tappa's 'Jah Is I Guiding Star' and a cut that Trojan would put out 'Natty Woman No Cry'. But it was his work through the late night sessions that had shown Tappa was ready to produce on his own. So working with eight rhythms that Bunny had given him, and a further two rhythms, one being from producer Jo Jo Hookim (which would become 'M.P.L.A.) and the other from Producer Ossie Hibbert (soon to turn into 'Pick Up The Rockers') these would become the back bone to Tappa's 'In Dub' album. The vocal versions of these cuts can be found on Tappa's 'M.P.L.A' album, but it's the great dub classic album that we deal with here today, as a stand alone classic that few have bettered….Enjoy !!!
Customers who bought this item also bought
Customers reviews
Express yourself, write a review