Jamaican Recordings LP 39 by Lee Perry
Label

: Jamaican Recordings

Title

:

Dub Treasures From The Black Ark

Reference

:

Jamaican Recordings LP 39

Format

:

LP

Country

:

UK

Categories

: Dub / ragga,

Style

:

Dub roots

Weight

:

0.30

Release date

:

07/28/2021

Catalog entry

:

07/28/2021

Average rating

: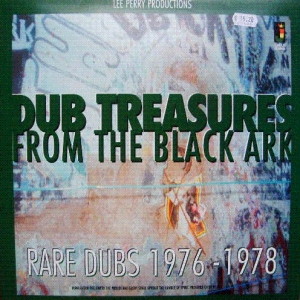 20.52 € (TTC)
Back in stock soon
Jamaican Recordings LP 39 review
Lee 'Scratch' Perry's Black Ark Studio opened its doors in 1974. Situated in his backyard at 5 Washington Gardens,Kingston, Jamaica. Using only basic equipment, a Teac Four-Track Recorder, a Soundcraft mixing desk, an Echoplex delay unit and later adding a Phaser effects unit that he used in conjunction with his Roland RE201 Space Echo. He managed mixing down the tracks from Four track to Two track to make his distinctive whirling sound that sets apart the Black Ark Sound from the other Jamaican Studios. Born Rainford Hugh Perry, 28 March 1936, Hanover, Jamaica. He began his career at the grand age of 16, working for Clement 'Coxsone' Dodd's sound system, rising quickly to the position of record scout and organising recording sessions during his 3 year period 1963-1966. Restlessness and unsatisfied with credit he felt due to him he moved on to work with Producers J.J. Johnson and Clancy Eccles, the later of which would help him set up his 'Upsetter' label in 1968,which would see his first of many recordings telling the injustices done to him by previous employers. 'The Upsetter' track itself pointed at Mr Dodd but reflected back to Perry when he inherited it as a nick name alongside many others during the course of his career, including 'Scratch', again taken from one of his recordings 'Chicken Scratch' recorded in 1965/1966. Perrys work in 1968 with producer Joe Gibbs was fruitful and resulted in many successful releases, but again feeling a lack of credit and itchy feet, it was time to move on. Still not having a studio of his own, Perry recorded at the various Kingston establishments at the time, Randy's Studio 17 on North Parade, Dynamics on Bell Road and Harry J's on Roosevelt Avenue where the bulk of the aforementioned recordings with The Wailers were carried out. His dream was always to build his own studio and not to have to work to the constraints of the other studios and producers. On opening the Black Ark studios the hits seemed to come immediately. Firstly with Junior Byles' 'Curly Locks' and in 1975 the massive crossover hit Susan Cadogans' 'Hurt So Good' that reached No 4 in the UK charts.1976 saw Island Records releasing Perrys vast output, timeless material like the Heptones 'Party Time', Max Romeo's 'War Inna Babylon' Bob Marley and the Wailers 'Jah Live', 'Punky Reggae Party' and Junior Murvins 'Police and Thieves' to name but a few.But sometimes missing out on a few classics like Perrys own 'Roast Fish, Collie Weed & Corn Bread' and possibly one of the best reggae albums of all time The Congos 'Heart of the Congos'. Dub releases like 'Revolution Dub' (1975) showed a way forward for his production skills in this formidable arena. Having his own studio allowed him to build up a vast catalogue of tracks to work on. We have culled together some lost productions that Lee Perry carried out with singer Mike Brookes, a fine singer, arranger from that special time in the Black Arks history. Sounding like Junior Marvin in parts and Max Romeo in others but still carrying a distinctive Falsetto voice. Some classic tracks as you can see recorded with the cream of musicians at Lee Perrys disposal. Mr Perry works his magic that gives these songs that distinctive feel that his output carried around the mid 1970's.
Customers who bought this item also bought
Customers reviews
Express yourself, write a review