Jamaican Recordings LP 53 by Augustus Pablo
Label

: Jamaican Recordings

Title

:

Rockers At King Tubby's

Reference

:

Jamaican Recordings LP 53

Format

:

LP

Country

:

UK

Categories

: Dub / ragga,

Style

:

Dub, Roots Dub, Raggae

Weight

:

0.30

Release date

:

05/05/2022

Catalog entry

:

05/05/2022

Average rating

: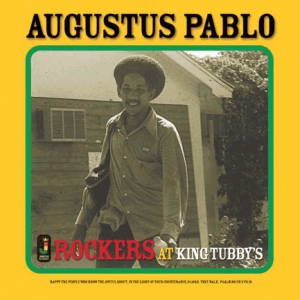 20.52 € (TTC)
Back in stock soon
Jamaican Recordings LP 53 review
Augustus Pablo's unique sound which was created around playing what could best be described as a child's musical toy the Melodica, it made him a very popular session player in the late 1970's and early 1980's.It was not only his unique talent of playing this instrument but also his talents on the piano and the keyboard. Pablo worked on a varied amount of sessions for all the top Jamaican producers, but especially for King Tubby at his studio in the heart of the Waterhouse district of Kingston, Jamaica. Augustus Pablo (b. Horace Swaby, 1954, St Andrew, Jamaica) cut his musical teeth with producer Herman Chin – Lo in 1969, with his first record 'Iggy Iggy'. His second cut fo the producer was to be the timeless 'East of the River Nile' which carried that haunting Far-Eastern feel that in many ways became his signature sound. We have concentrated for this release on his sessions at King Tubby's studio where over a stream of producer Bunny Lee's rhythms, Pablo's talents were required. Rhythms that Bunny had alredy cut at the various other studio's around Kingston, for example Channel 1 where he had recorded his cut to the' Declaration of Rights' rhythm. Randy's Studio 17, where he recorded Horace Andy's version of Bill Wither's ' Ain't No Sunshine'. To Dynamic Sounds studio, used for Delroy Wilson's 'Cool Operator' , Errol Dunkley's' Black Cinderella' and John Holt's 'Clock On The Wall'. Even back to Coxonne Dodd's Studio 1 for Alton Ellis's 'I'm Just A Guy'. Bunny's vast set of master tapes, which he stored at King Tubby's studio, were available to voice over or remix when the occasion should arise. Pablo was recruited on many occasions to add his magic to tracks both as a Melodica player and for additional piano and keyboards. These tracks in many cases would be used for the flip version side of the release that Bunny and Tubby were working on. We have compiled a set of rhythms that have King Tubby and Phillip Smart at the controls and Augustus Pablo adding his musical flavour to the mix to make what we believe a great album.
Customers who bought this item also bought
Customers reviews
Express yourself, write a review