Label

: Moonshine

Title

:

Ruling Sound

Reference

:

Moonshine 28

Format

:

12"

Country

:

PL

Categories

: Bass dubstep grime, Dub / ragga,

Style

:

Dub, Dubstep, Drum N Bass

Weight

:

0.24

Release date

:

12/10/2016

Catalog entry

:

12/10/2016

Average rating

: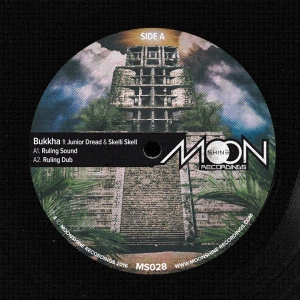 10.31 € (TTC)
Out of stock
Moonshine 28 review
Moonshine Recordings continues to coordinate dub into all sorts of directions with its steady throughput of vinyl releases. This time around, it's the Spanish-based Bukkha to uplift all followers with two up-tempo rollers that take part in his crucial 'Ruling Sound' EP. His name has been all over the news inside bass culture lately, as the American released highly noted physical music on critical labels like Killa Sound and Dub-Stuy Records. He's been working his way to the top and the only thing the Moonshine Recordings imprint can do is support his efforts in pushing dub music to the masses at any given moment of the day.

On top of this wicked news, Portland's dub producer and engineer 'Skelli Skel' joins this session to frame the taste of the 'PDX Mandem' collective from back home. His love for complex rhythms and heavy bass lines fuel his adventure inside dub culture, something you'll hear when listening to 'MS028'. And with the familiar voice from don Junior Dread, who jumps in on the hype by illuminating the dub with carefully selected freedom of speech, it's the collaboration that speaks for itself. To top it all, TMSV is added to the release roster, a producer whose been dealing some serious damage with his inventive music repertoire. Whether it's music on the darker tip, or the more laidback sound, both Bukkha and TMSV know how to uplift and please their followers with bass-heavy, eardrums-teasing bass music.

Bukkha's 'Ruling Sound' leads his way through musicality by portraying the right balance of instruments and not to mention the gigantic bassline that disperses vibrantly through the lower bottom of the mix. The reigning vocal support from Junior Dread and dub techniques from PDX Mandem family Skelli Skell work out fantastically, as it makes this record come to life. Listen to the instrumental part that propagates in the exact sense of 'dub music', regardless of spinning on a higher beats per minute. The version 'Ruling Dub' by Bukkha himself plays a more meditative part inside your headspace; a clipping where basslines and effects will act up in a blurred version. It's the real attention to detail the American producer shares with remix boss TMSV, who hits fans with a darker joint that pays homage to Drum & Bass. It's aggressive stance forms the pinnacle of 'the right' B-side of a Moonshine Recordings plate. Just make sure you experience the second drop of this absolutely mammoth interpretation, as TMSV shuts down the place!
Customers playlists
dub created by satiwa
steppa created by y
ecoute created by Dub Pearl
sep2017 created by lisad
Customers who bought this item also bought
Customers reviews
Express yourself, write a review