i
Label

: Nice Up

Follow this label

Title

:

Inna Nice Up! Fashion

Reference

:

Nice Up Fashion LP 01

Format

:

2xLP

Country

:

UK

Categories

: Dub / ragga, Drum & bass, Ragga jungle, Bass dubstep grime,

Style

:

Dub, Ragga Jungle, Bass

Weight

:

0.50

Release date

:

06/18/2016

Catalog entry

:

06/18/2016

Average rating

: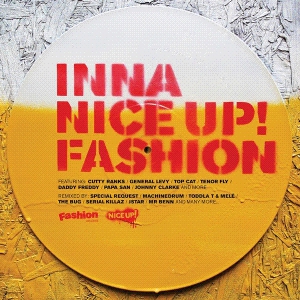 33.59 € (TTC)
Out of stock
Nice Up Fashion LP 01 review
Undoubtedly one of the most iconic and legendary reggae labels to come out of the UK,Fashion Records has a rich and deep history that reaches far beyond the world of reggae. The brainchild of John MacGillivray and Chris Lane, two music devotees who started the Dub Vendor market stall in Clapham Junction selling imported reggae and dub vinyl during the late 70s (which later went on to spawn the hugely popular Dub Vendor shops), a dub cutting studio and label was set up in 1980 and started generating hits instantly, regularly topping the UK reggae charts and attracting attention further afield. Soon a recording studio was built, which served as a drop-in for most of the Jamaican stars passing through London at the time.

Horace Andy, Johnnie Clarke, Alton Ellis, Frankie Paul, Junior Delgado and many more household names all spent time in the A-Class studios during the early days, although it was the stars of the new UK reggae explosion that really put the label on the map. Alongside artists such as Dee Sharp, Keith Douglas, Papa Face & Bionic Rhona, the label was a springboard for talents such as Asher Senator, Macka B,Andrew Paul and Smiley Culture, the latter scoring a top 20 hit and a couple of appearances on Top Of The Pops with his 1984 single "Police Officer".

Going from strength to strength, it was the chart explosion of dancehall in the early 90s that saw more international names come flocking to the label and more hits racking up - far too many to list here, but a brief glance through the discography shows Cutty Ranks, Papa San, General Levy, Top Cat, Tenor Fly, Daddy Freddy and Wayne Wonder all recording sides for the label. Subsequently another more uniquely English style of dance music began using acapella samples from the label; jungle. Based around the soundsystem style of Jamaican music, with an emphasis on the cutting drums and heavy basslines, young jungle producers used many of the tracks recorded and played by the previous generation as the music's backbone, the vocals given new life by the rudimentary samplers being used in bedroom studios all over the land.

Fast forward 25 years and those reverberations are still being felt today - drum & bass, dubstep, hip hop, trap and almost any other sub-genre of what many now refer to as "bass music" has the DNA of reggae and dancehall running through it, so its only right to expect a little payback. A&R'd by music fanatic and owner of the NICE UP! record label, Jon Sheppard - "Inna NICE UP! Fashion" aims to bring new life to some of these legendary tracks by having modern day producers rework them in their own style and re-introduce them to a new audience. From the frantic breakbeats of rave-revivalistSpecial Request and the bottom end sonics of Radio 1's Toddla T & Melé, to the modern minimalist dancehall-tech of Machinedrum and the digital dub drone of The Bug, there is plenty to get excited about here. Poland's Radikal Guru serves up some classic dubstep, Germany's Jahtari crew take it back into 80s nostalgia with their 8-bit dancehall style, whilst modern reggae producers Wrongtom, Jstar and Mr Benn all show why they are on the forefront of the UK reggae revival. The tempo gets upped for some heavier jungle inspired remixes from Aries & Gold Dubs, Serial Killaz and festival favourites Dub Pistols, giving a little bit of something for everybody.
Other releases by
Johnny Clarke
Follow
Other releases by
Radikal Guru
Follow
Other releases by
Daddy Freddy
Follow
Other releases by
Tenor Fly
Follow
Other releases by
Mr Benn
Follow
Other releases by
Machinedrum
Follow
Other releases by
General Levy
Follow
Other releases by
Cutty Ranks
Follow
Other releases by
Aries
Follow
Other releases by
Bunny General
Follow
Other releases by
The Bug
Follow
Other releases by
Toddla T
Follow
Customers who bought this item also bought
Customers reviews
Express yourself, write a review